27/07/13 – Sake Pop #2
Last Saturday evening I had the pleasure of doing what I love: talking to and engaging people with sake at the second "Sake Pop" event. Sake Pop is a pop-up sake and Japanese food event, the brainchild of Japanese chef extraordinaire, Tom Dean. Tom is from a sake brewing family – his cousins own and run Tsuji Honten brewery in Okayama, Japan (one of the breweries I represent in UK). Having visited Katsuyama in Okayama where Tsuji Honten brews and, having met the Japan-based part of the family, I felt privileged to be able to join the UK-arm and support this great event.
I put together a sake menu, primarily from Tsuji Honten (Japanese brand name Gozenshu) with one or two other 'specials' from some of the other breweries I represent:
And Tom put together a selection of nibbles and larger dishes: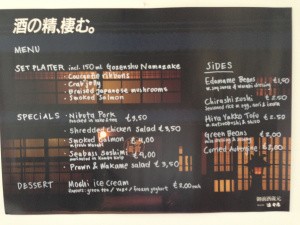 All-in-all, a great success, by all reports – the food flew out of the kitchen and the sake didn't hang around long enough to wet the bottom of the cups! It was great to see so much interest and I was delighted to be on hand to advance peoples understanding and take them on a sake adventure! Thanks to everyone who turned up & see you at the next one…
For details of upcoming events follow @tengusake and @sakep0p on Twitter.
Original Booking Details:

Venue: Brick Lane, London
Time: 17:00 – 23:30
Details: In partnership with @sakep0p. Menu featuring refreshing summery drinks and snacks, as well as old favourites. Entry ticket includes 150ml flask of premium summery namazake), as well as a small platter with an assortment of snacks. There will also be dishes available a la carte and an expanded sake list. We will be focusing on sake from Tsuji Honten brewery.
Booking: https://sakepop2.eventbrite.co.uk/ (SOLD OUT!)
Menu: https://tmblr.co/ZxwbmvqOciKH