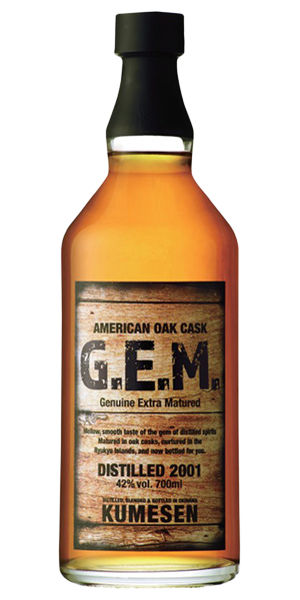 Two reserve Awamori are aged for a further 10 years in Kentucky oak to create a spirit in a class of its own.
Earn 46 Reward Points
£92.00
Profile
Kumesen is one of the most famous Awamori producers in Japan and G.E.M. (Genuine Extra Matured) is a ground-breaking product. The liquid is a blend of two reserve Awamori, a 1997 and a 2001 that are then independently matured for a further 10 years in second use bourbon barrels imported from Kentucky, USA, and then blended.  Japanese Pappy? You decide.
Extensive ageing, and the two Awamori blend have given this beautiful spirit smooth and creamy notes of vanilla, beeswax and a lingering and luxurious finish. Stunning balance and a clean finish of cloves, cinnamon and tangerine peel makes this as compelling as it gets.
Production Methodology
Awamori is made from long grain Thai rice which is inoculated with black koji mould, fermented and then distilled.
A 2001 distilled Awamori is blended with 1997 Awamori and the two are aged for ten years in second use Kentucky oak barrels. The barrels were originally charred and used for bourbon, there is no re-charring before use.
In Japan, Awamori is not allowed this depth of colour so, in Japan, G.E.M. could not be sold as an Awamori. In the UK there are no such restrictions and we are clear that this is not a whisky but a rare expression of Japan's oldest indigenous spirit.
Tips
Produces a natural foam when shaken – great for sours!
Makes a serious Boulevardier
Two aged Awamori blend
Further 10 years in Kentucky Oak