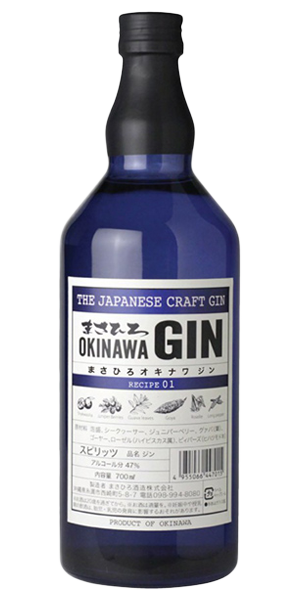 Premium craft gin from tropical Okinawa with an Awamori base, 'hybrid distilled' in the Dutch style.
Earn 31.00 Reward Points
£62.00
Profile
Masahiro distillery has been on the tropical southern island of Naha in Okinawa Prefecture, Japan since 1883. Their expertise lies in Awamori, Okinawa's traditional spirit, so it is only natural that Okinawa's first craft gin be made from an Awamori base.
The botanicals include roselle (from the hibiscus family), guava leaves, and long pepper, but the most interesting addition is goya, the green, bumpy Okinawan bitter melon. At 47% ABV, it's bursting with floral flavours, tropical fruit, and green notes from the bitter melon.
Production Methodology
Awamori is made from long grain Thai rice which is inoculated with black koji mould, fermented and then distilled. Masahiro Awamori undergoes 'hybrid distillation': two Awamori are distilled – one from a horizontal pot still, the other from a vertical pot still – and blended.
Using this 'hybrid distillation' technique and five, uniquely Okinawan botanicals (+ juniper) a truly tropical & terroir-driven gin is born.
Juniper
Shekwasha
Guava Leaves
Goya
Roselle
Long Pepper
Tips
We call this the 'bartenders secret weapon' as a small addition to cocktails gives a totally unique and exotic flavour.