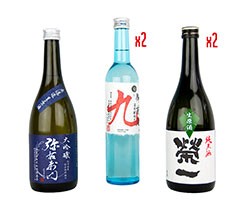 Earn 58 Reward Points
£116.00
Fresh, zesty and fruity sake
Namazake is unpasteurised sake. Fresh, ripe, fruity, zesty and refreshing are the watchwords here. Unbelievably zingy, these sake are best drunk fresh and are wonderful on a hot summer's day (or after a hard day's work!)
Each case contains:
One bottle of Snow Blossom – from Yamatogawa Shuzo. Think: fresh & zesty; fruit salad flavours.
Two bottles of Mountain Stream – from Tsuji Honten. Think: layered, complex, fresh & young.
Two bottles of Konishi Silver (a nama-chozo). Think: light, delicate, refreshing.
Due to their unpasteurised nature these sake must be kept refrigerated. This gives you an idea on how the sakes in our Nama Sake Selection should be drunk: crisp and cold.
Allergens: Snow Blossom & Konishi Silver may contain gluten.