Browse (Junmai) ginjo on our sake shop
Junmai Ginjo and ginjo are both made with rice polished rice to remove at least 40% of the outer layer of the grain (reminder of sake classifications). It accounts for only 3% of all sake produced, and is celebrated for its pronounced fruity flavours and fragrance.
FRAGRANCE & FLAVOUR
The defining characteristic of this class of sake is the fabulous fruity and floral scents. Common scents include apple, melon, pear, strawberry, banana, lychee, and citrus fruits. Flavours are generally light and delicate , they can also be highly nuanced but not as much as the more refined (junmai) daiginjo class.
Junmai ginjo (made without added alcohol) is generally deeper in flavour with a slightly more muted nose than it's ginjo counterpart, which tends to emphasis the fruity notes and produces a lighter, more delicate sake.
JUNMAI GINJO SAKES AVAILABLE IN OUR SAKE SHOP
 Blue Dragon – Delicious, fresh, fruity & light
Silent Forest –  rich honey, melon & dried apricot; good cold & warm
GINJO SAKES AVAILABLE IN OUR SAKE SHOP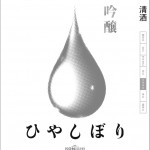 Konishi Silver – Gold Medal winning sake. Light, delicate, refreshing with lower alcohol
DRINKING TEMPERATURE
You have more leeway with ginjo and junmai ginjo than you do with their more milled daiginjo brothers. The more fruity types generally are best drunk colder but you can experiment at warmer temperatures with others. Silent Forest, for example, is fabulous at 30-35°C.
FOOD PAIRING
This category of sake can be drunk on its own but also goes very well with food. Junmai ginjo tend to have more umami tasting amino acids than (junmai) daiginjo so pair well with fuller flavours. A fabulous grilled steak is a good example; although, unless they have ample acidity they will not benefit from the addition of a creamy Bearnaise sauce!
Konishi Silver is a great match for meaty seafood (scallops, etc.), Silent Forest is fabulous with salty foods, creamy cheeses or meats, and Blue Label pairs well with hard cheeses and stews.