Last month we released the exclusive ROKA 15 Junmai Daiginjo made especially for ROKA restaurants by Tatenokawa brewery to celebrate their 15-year anniversary. Throughout this year there will be a series of events, at ROKA, to celebrate this fantastic collaboration. The dates have been released:

5th June – Paired dinner at ROKA Canary Wharf (£115pp)
25th September – Paired dinner at ROKA Mayfair (price TBC)
22nd October – Canapés & Masterclass at ROKA Aldwych (price TBC)
NB – prices and dates may vary, please take this as just a save the date and always check with the restaurant nearer the time. We will update this page and our events page with any new information.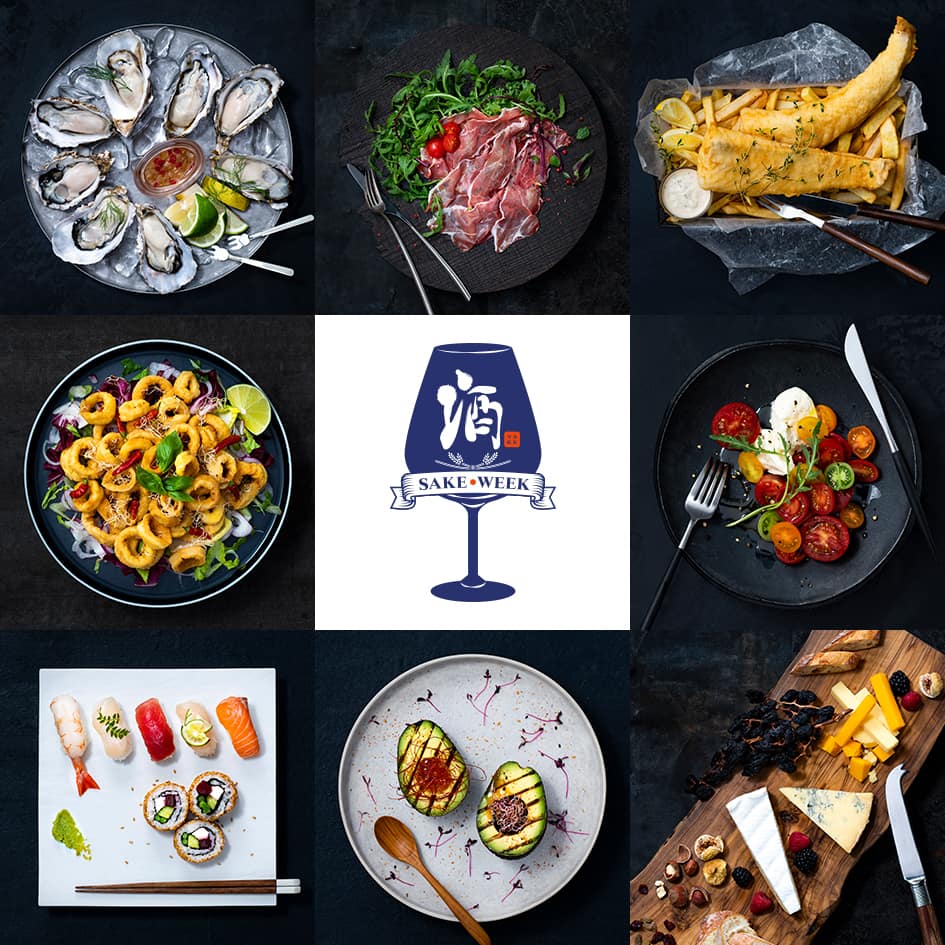 Get ready to toast 2,000 years of Japanese tradition and culture this month with the exciting launch of the first ever London Sake Week.
Update – map added! (scroll down)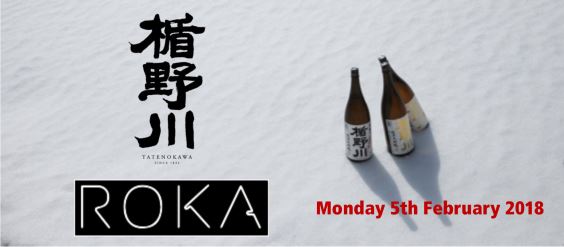 Zenith is the English name for Tatenokawa's newest sake, a Junmai Daiginjo, made with Dewasansan rice, polished all the way down to 1%. That's just 1% of the rice grain left after months of polishing. No-one has ever accomplished this before. To celebrate, we invited Naomi-san from Tatenokawa to come over to the UK, teamed up with London's ROKA Restaurant and, on 5th February 2018, held a dinner to be remembered. (more…)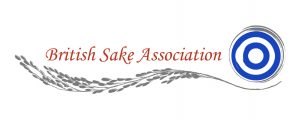 at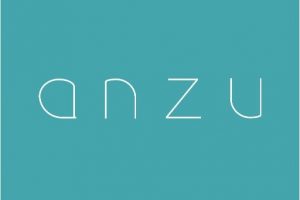 On 15th May the British Sake Association hosted a sake dinner for their members and guests at London's Anzu restaurant.  Our Director, Oliver, was invited along to present a selection of sakes, all paired with Anzu's excellent food. The event was sold out and we welcomed 22 people for dinner.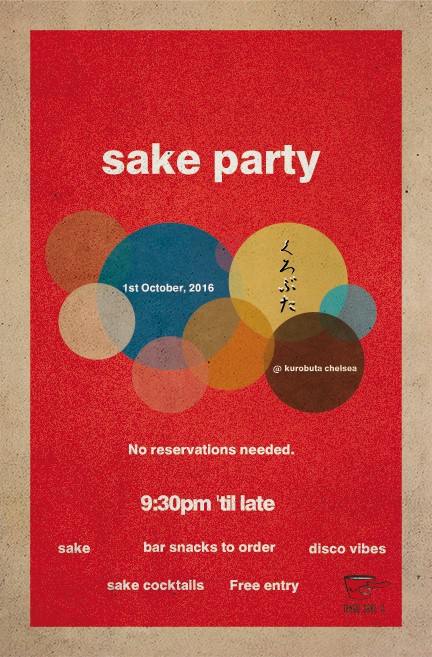 World Sake Day 2016 Party at Kurobuta
And the party starts here! A selection of sakes to try by the glass, sake cocktails, bar snacks on order and awesome tunes!
Free entry, no reservations needed. Party starts 1st October from 9:30pm 'til late.
If you're interested in our paired dinner beforehand, starting at 7pm, check this out!
Kurobuta Chelsea
312 King's Road,
London SW3 5UH
CELEBRATE WORLD SAKE DAY 2016, KUROBUTA STYLE
Kurobuta takes its inspiration from the Izakayas of Japan, where tapas-style plates are served to accompany drinks in a casual setting and to mark World Sake Day 2016 on 1st October, owner and chef Scott Hallsworth will be putting on a sake dinner and after party like no other at his Chelsea restaurant.
With Scott at the helm, the food is going to be out of this world and will be paired with epic sake samplers carefully selected by Tengu Sake, who supply incredible sake from multiple award-winning Japanese breweries.
This one-off evening will kick off in Kurobuta Chelsea's basement at 7pm, where guests will be welcomed with amazing Japanese inspired canapés alongside killer sake cocktails.
This will be closely followed by a six-course, sake paired feast with all dishes being cooked in front of guests by Scott himself. Culinary theatre at its very best!
Oliver Hilton-Johnson from Tengu Sake will also be in the house, serving up his excellent sake and giving guests the lowdown on each pour.
World Sake Day 2016 dishes and pairings include (subject to change)
Chilli Crab Wonton Bombs paired with "Snow Blossom" Junmai Daiginjo Namazake – a super fresh and zesty style of sake with bright fruit flavours
Oyster-Sake Shots paired with "Konishi Silver" Ginjo Hiyashibori – a fresh, smooth and creamy sake, perfect with oysters!
'Krabbie Patties' (mini chicken and red shrimp tempura with sweet and sour ponzu) paired with "Misty Mountain" Junmai Usunigori Bodaimoto – a funky, zesty and cloudy sake made to a special medieval recipe
Miso-Yaki Foie Gras Croissant paired with "3 Peaks" Tatenokawa 33 Junmai Daiginjo – the bright tropical fruit flavours will perfectly complement the deep, rich flavour of the foie gras
Then from 9.30 onwards there will be a DJ getting everyone in the mood to party Kurobuta style, plenty more sake cocktails available to buy. Check out the party!
To book your tickets for the Sake dinner and/or place on the after party guest list please email Chelsea@kurobuta-london.com or call 0207 920 6442 mentioning WORLD SAKE DAY DINNER. Tickets are £50 per person and are very limited!
Kurobuta Chelsea
312 King's Road,
London SW3 5UH
Last month I has the pleasure of joint-hosting a wonderful sake dinner with Honami Matsumoto from House of Sake at the spectacular and prestigious Umu Restaurant in London's Mayfair.
To ensure an intimate setting the dinner was strictly limited to 10 places. Chef Ishii prepared a sublime six course meal with delicious green tea and delicate pastries to finish. Each course was paired with a different sake from our portfolio and Honami-san carefully selected exquisite sake cups and other service wares to enhance the experience. Overall it really was a night to remember.
A big, big thanks to all those who came and, of course, to Ryosuke Mashio the Head Sommelier at Umu for his wonderful service. (more…)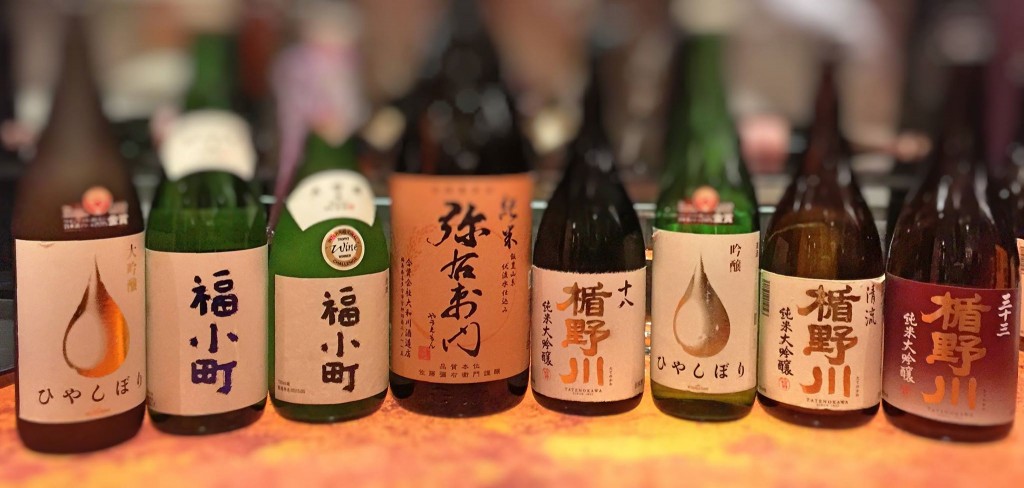 New sake indeed!
On 9th March our Director, in association with the British Sake Association, presented the new line up of sakes from Tengu Sake at Salmontini Le Resto in London's Belgravia.

CELEBRATE SETSUBUN 2016 – the demon banishing festival!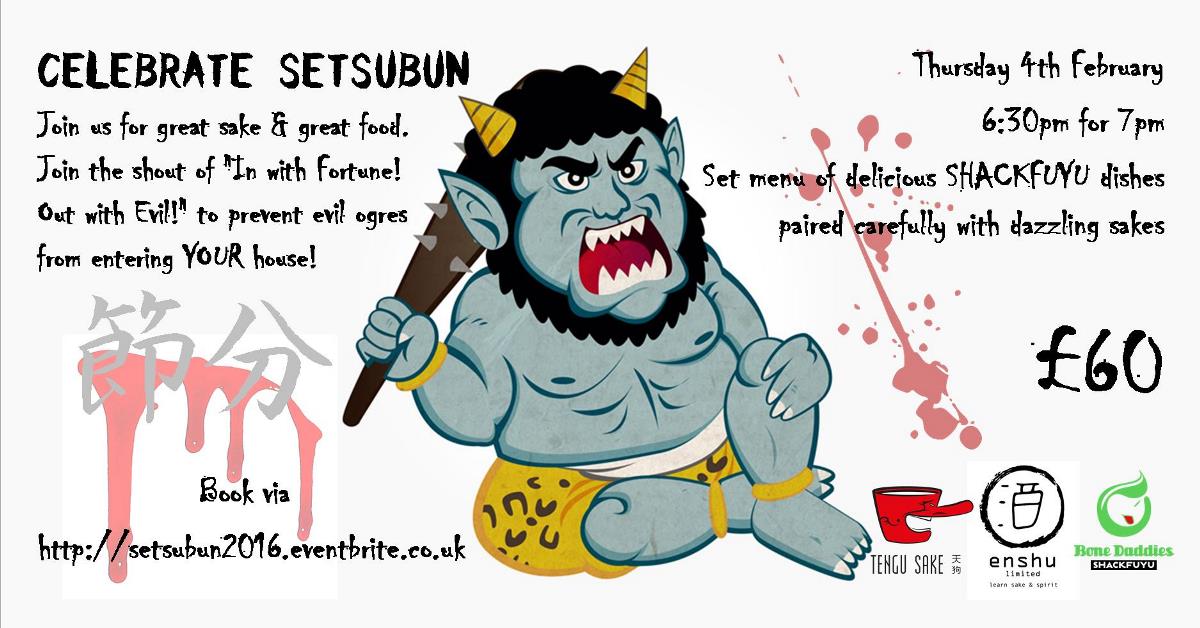 Join us for great sake & great food. Join the shout of "In with Fortune! Out with Evil!" to prevent evil ogres from entering YOUR house!
A big thank you to everyone who came down on 1st October for our World Sake Day party!
I held a Masterclass beforehand for around 25 people; the theme was sake & temperature and we tried three different sakes, both cold and warm: Rocky Mountain, Silent Forest & Morning Dew.  Since it was World Sake Day we also had a toast with Tatenokawa 18!
The party kicked off with aplomb around 8pm with 4 sake cocktails to choose from by the masters at Pimpshuei as well as 5 sakes by the glass.
Check out some photos from this year's party; see you next year!