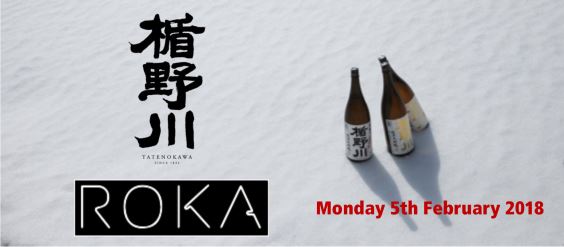 Zenith is the English name for Tatenokawa's newest sake, a Junmai Daiginjo, made with Dewasansan rice, polished all the way down to 1%. That's just 1% of the rice grain left after months of polishing. No-one has ever accomplished this before. To celebrate, we invited Naomi-san from Tatenokawa to come over to the UK, teamed up with London's ROKA Restaurant and, on 5th February 2018, held a dinner to be remembered.
We decided to put on the most prestigious line-up of Tatenokawa sake available, allowing guests to compare different polishing ratios and different rices. Tatenokawa only makes Junmai Daiginjo so each sake was – of course – polished 50% or more.
— MENU —
Tatenokawa Komyo "Zenith" 1% Dewasansan
Masterclass from Naomi-san of Tatenokawa
Tatenokawa Kyokugen "Ultra" 8% Yamadanishiki
Kampachi sashimi with yuzu truffle dressing
Tatenokawa 18 "Eighteen" 18% Yamadanishiki
Tokusen sashimi moriawase
Tatenokawa Hatsufune "first press" 50% Dewsansan Namazake
Avocado maki
Tiger prawn tempura
Black cod, crab and crayfish gyoza
Tatenokawa 33 "Three Peaks" 33% Dewsansan
Grilled king crab with brown crab butter and crispy shallot
Black cod marinated in yuzu miso
Tenderstem brocolli, ginger and moromi miso
Tatenokawa Joryu "Upper Stream" 40% Yamadanishiki
Lamb cutlets with Korean spices
Asparagus with sweet soy and sesame
Iceberg lettuce with caramelised onion dressing
Kodakara Nanko Umeshu
ROKA dessert platter
—-
Quite the menu!

Trying the 1% polished Zenith Dewasansan was an amazing experience.  Only 160 bottles were made this year (winter of 2017) so be able to have one for the dinner was a true privilege. Naomi-san explained the challenges Takeshi-san, Tatenokawa's Head Brewer, encountered and the reasoning behind the 1% (I will go into all this is another blog post – scroll through my blogs if you want to learn more about the 1%).
We got to try the 1% side-by-side with the 8%: very interesting. Aside from the obvious difference in rice polishing ratios, the rice itself is also a differentiating factor.  The 1% is made with Dewasansan and the 8% Yamadanishiki (in fact, it's the highest polished Yamadanishki in the world).  The 1% was ethereal, light and precise whereas the 8% had more weight and body, and more expression straight from the bottle. You would, of course, expect this and while it is a function of the difference in polishing, the choice of rice also has a part to play.
No-where can this be seen more than when comparing the 33% and the 18%; 33% is made with Dewasansan and 18% with Yamadanishiki. Expectations would suggest that, while progressing from 33% to 18%, body and flavour would diminish; however, this is not the case. The use of Yamadanishiki for 18% subverts this expectation and results in a richer, denser brew. We decided to try and play off of this comparison by putting the richer foods with the 33% and vice versa for 18%. Some might think this a bit of a gamble but, of course, for a dinner of this quality we had tried all these combos before! It paired perfectly, we chose fattier fish for the sashimi to balance the weight of the 18% sake, and teased out the sweetness of the Dewsansan rice with our food choices for the 33%.
The funkiest sake available during the event was Hatsufune. As the name suggests (First Press) it's always the first sake to be available each year, usually being released as a very vibrant namazake in late November/early December each year. The zesty and lively profile of this sake paired beautifully with the maki, tempura and gyoza (fried food and namazake = big win!)
Joryu is a great sake – not one I normally import, maybe I should! – with excellent balance between body, acidity and aroma. Pairing this sake with the richest and heaviest flavours on the menu was a no-brainer.
As the end of the evening rolled around we rolled out of ROKA, sated, fattened and with a distinct feeling that we had just experienced something special. A big thank you to the 25 people who attended the event.