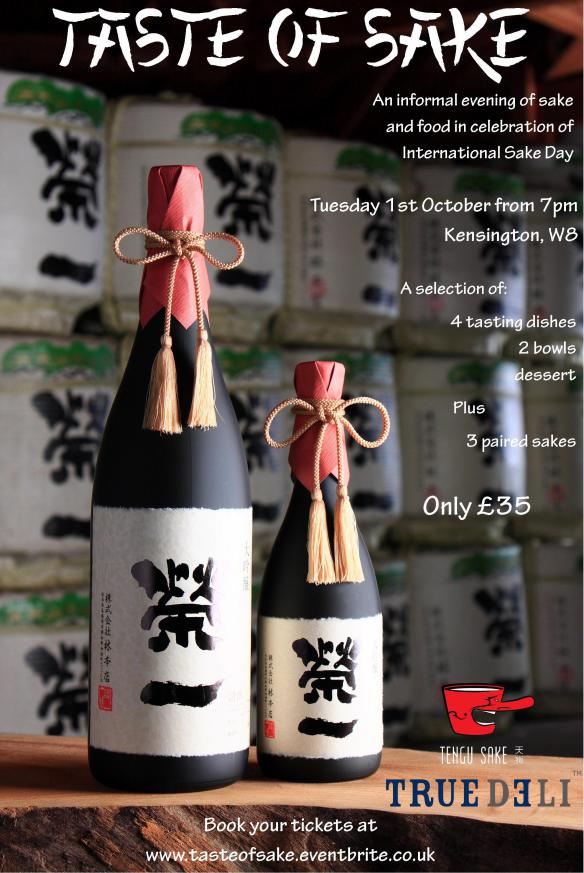 Book by clicking the image above
To celebrate the annual International Sake Day we're doing an informal 'pop-up' sake and food evening!
The evening will consist of a selection of dishes from True Deli:
4 tasting dishes
Pork and chive gyoza
Chicken yakitori skewers
Salmon Sashimi spoons with salted cucumber, citrus air & teryaki
Mixed vegetable tempura
2 bowls
Teriyaki beef with sticky rice & crispy shallots
Black cod with miso and sticky rice
Dessert
Green tea mochi ice cream
All will be matched with three fantastic sake: Dancing Geisha – a fresh namazake; Blue Label – a fruity junmai ginjo with good umami; and Golden Amber – a rare 12-year aged sake. Head over to the Tengu Sake website if you want to find out more about each one.
Don't miss out, BOOK NOW by clicking the image above or here
Location: 25 Chesterton Square, Pembroke Road, London W8 6PH