Exciting times! We just rolled out an updated version of our website www.tengusake.com.
How's it different, you say?! Check it out:
First
You can now create a profile, place an order, and pay for it all via the website. No more paying over the phone or by bank transfer.
Phe–ew!
Simply create an account when you checkout and, next time you login, all your delivery preferences will be there!

Second
Most awesomely, finding the perfect sake for you just got easier! How? You can now filter your sake choices using our unique pictogram system, simply by clicking on the pictograms at the top of the page.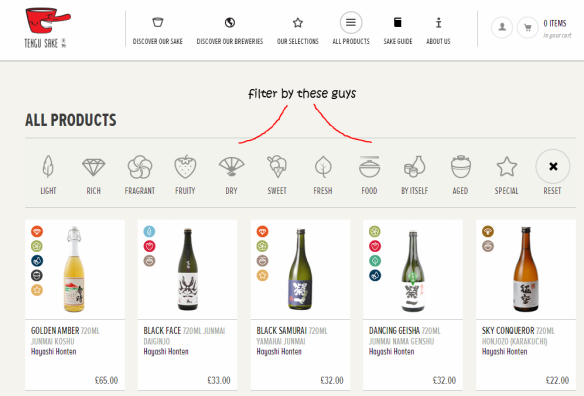 You can do this on both our Discover Our Sake page and our All Products page. Go on, try it now!  NB – these two pages have now been combined into one, our Sake Shop.
Third
More information is now detailed about each sake on the sake's product page. The right-hand column now details:
the pictograms associated with each sake
recommended drinking temperatures
a breakdown of the flavours and profile of the sake via a flavour graph
recommended food pairings
and, of course, for those in the know, our 'Master Specs'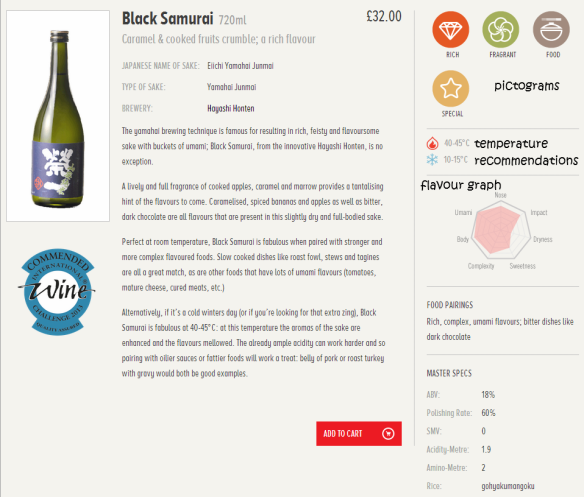 We've done all this to make it easier for you to find and order the sake you want. As ever, if you're struggling do not hesitate to give us a call or drop us an email, we're always happy to give advice!