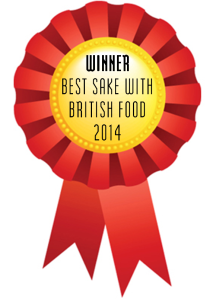 The accolades keep rolling in!
Rocky Mountain has been voted "Best Sake with British Food" at this year's Sake Experience at Hyper Japan. Over 1100 people visited the Sake Experience (a 44% increase on last year).
To celebrate our award I'm offering a 10% discount and free delivery for a half case (6 bottles+) of Rocky Mountain!


NB – discount only shows after you've logged in/registered and added 6 bottles of Rocky Mountain to your shopping cart. Discount only applicable to Rocky Mountain.

ROCKY MOUNTAIN
Rustic, raw and earthy
JAPANESE NAME OF SAKE:  Gozenshu 9 Regular
TYPE OF SAKE:                        Junmai Bodaimoto
BREWERY:                                Tsuji Honten
This is a rustic, raw and earthy sake with malt, caramel and cereal all present on the nose. The flavours are smoothly presented, well-balanced, rich and deep. Again, caramel, malt and cereal are the predominant flavours and, when warmed (30°C – 45°C), Rocky Mountain favours the sweeter caramel notes.
Full umami in this sake means it's a wonderful pair with richer flavours. Think cheese burger, think BBQ, think anti pasti, roasts, game, cheese, tomato sauces…
So, next time you're reaching for a full-bodied red to go with your summer BBQ, why not grab a bottle of Rocky Mountain, wow your friends and experience umami matching like never before.