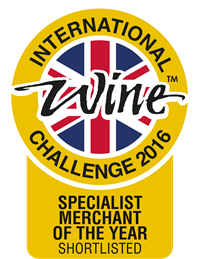 Holy moly! We've been shortlisted for Specialist Merchant of the Year 2016!
The International Wine Challenge has been judging wine for 33 years and is accepted as the world's finest and most meticulously judged wine competition. The IWC receives entries from every corner of the globe and employs a vast number of international wine experts to judge the competition. The results of the IWC are covered by the world's media, reaching over 1.2 billion people worldwide.
It is a great honour to have been shortlisted in these prestigious awards. In 2014 we were shortlisted for "Innovator of the Year" but, unfortunately missed out on the grand prize. This year we hope to bring it home! We'll find out at the glitzy awards dinner on 7th July.
Of course, a huge thank you must go out to all our customers. Without you we would be nothing.
Thank you for loving sake and thank you for choosing Tengu Sake!
Incidentally, the IWC has been judging sake – alongside wine – for 10 years now. I am lucky enough to have been a sake judge for three years and this year, to celebrate 10 years, the judging was in Japan (as opposed to the usual London venue). More on this is a later blog.